By using intensive adheresives & unique abrasives with accomolated technology over past years,
Sun Abrasives has developed longer-life product with less dust while sanding.


Why Film ?

Film is much more durable than paper and will not tear easily. The high durability
provides longer product life and even surface provides outstanding finish.
Film is the best choice for dry and wet sanding applications.
Why Sunmight Film Abrasives ?

Sunmight Film is made with premium grain, strong resin bond and special stearated coating. This provides superior performance and life.
Excellent Cutting and Long Life

Sunmight Film's premium grain and strong
resin bond provide faster and sharper
cutting performance and longer life than
competitors' products.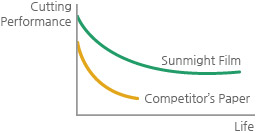 Excellent Durability

Film backing is very strong and durable. It does not tear easily during sanding operation and is great for edges, corners and irregular shapes.
After Sanding

Film Product
Paper Product
Good for Edge & Corner Sanding

Edge sanding
Corner Sanding
Perfect Sanding Surface

With uniform mineral coating on perfectly even surface, film works better than paper. The result is outstanding finish without deep scratch marks.

Film Backing


(Even Surface)

Paper Backing


(Uneven Surface)

Sanding Surface Roughness

After Sanding with Film Disc
After Sanding with Paper Disc
Less Shelling Problems

Special resin over resin adhesion technology reduces shelling problems.
Advance Adhesion Technology

Sunmight Film
Competitor's Paper